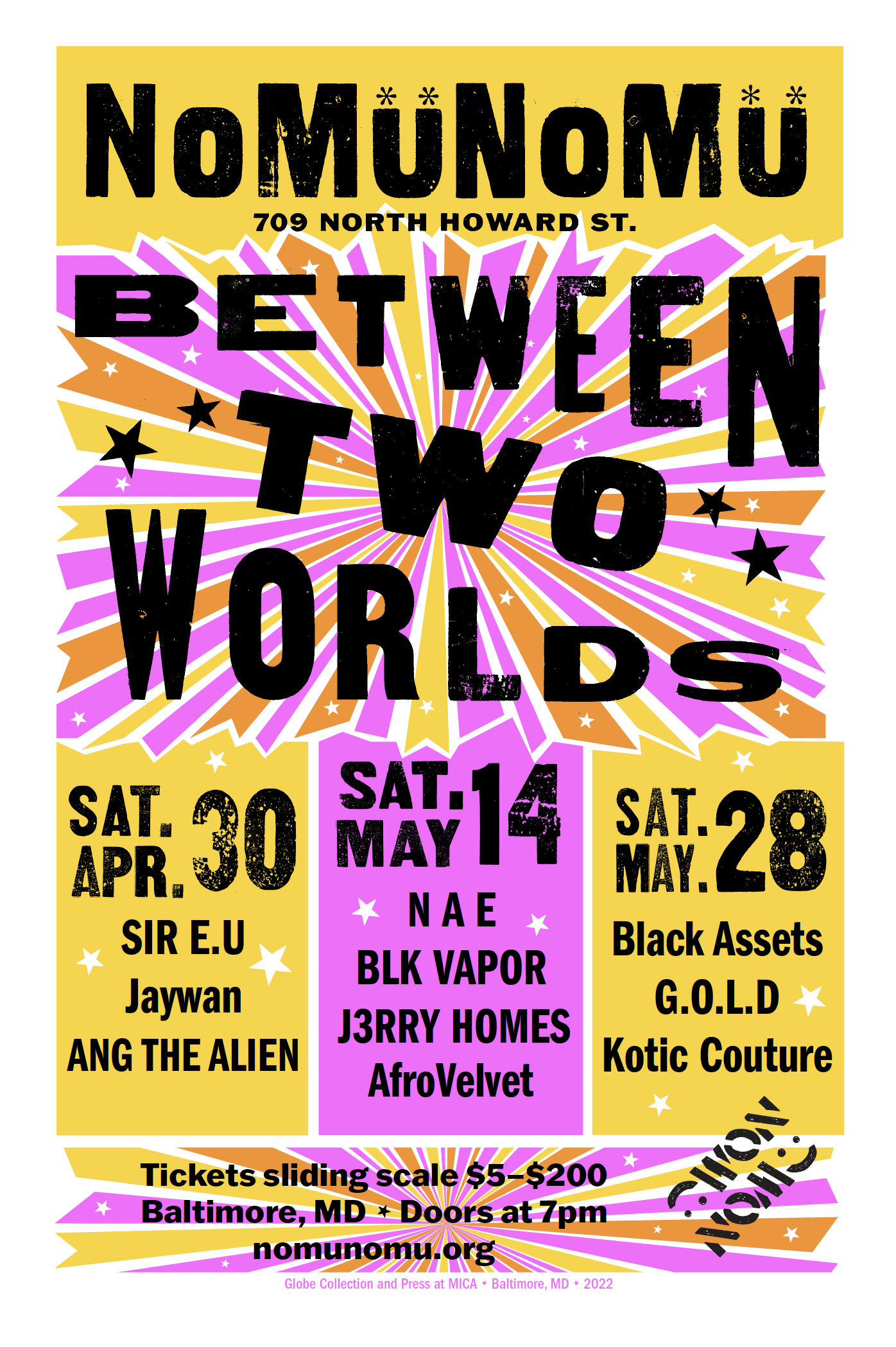 About the Artists:

SIR E.U. is a multimedia artist based in Washington, D.C. He often pairs visuals with his performances and his music has been described as "genre-bending"" by Angelie Benn of Capitol Sound DC..

Jaywan is a rapper and singer from East Baltimore. His music is inspired by genres from soulful R&B to hard, gritty hip hop.

Ang the Alien lives up to her name. A mix of deep house, funk, rock, hip hop, and pop, her dance moves, soulful vocals, and bold costumes will take you out of this world.



N A E is a multimedia artist. Her music is influenced by the themes of inner monologues, nostalgia, evanescence vs. permanency with a hint of romanticism.

BLKVAPOR is a Baltimore DIY punk and noise rock band formed by K, Safra, and Proxy.

J3RRY HOMES is a producer and artist. He feels his way through the moment with a genre ambiguous sound.

Afro Velvet is a musician, producer and performer. They create sonic portals by bridging Japanese Harajuku/Kawaii influence with radical Black cultural impact.



Black Assets is Soul Personified.

G.O.L.D. is an independent alternative R&B duo whose music explores all of the emotions hidden in between the paradigms of love and the quarrels of mourning loss.

Kotic Couture is a dynamic rapper and songwriter. Their music is a blend of high energy club, hip hop and poignant lyricism.

SECS partnership:

NoMüNoMü has partnered with the organization
Social Education Centering Sex (SECS)
, which works to create safe spaces, educate community around issues such as consent, and supports people who have been harmed, as well as works with those who have been identified as causing harm to work towards healing and accountability using a transformative justice lens. The NoMüNoMü team is working with SECS to implement their framework for creating and existing as a safe space for our community.
With that, please be aware that this is a safe space for our performers and audience. If you have a history of violating womxn, people, or femmes, do not come to the event. If you know your presence will make a performer or member of our community uncomfortable, do not come to the event. If you violate any of the house rules, or disrespect anyone's personal sense of safety, you will be asked to leave, no exceptions. We thank you for understanding and helping us make this a safe space for everyone.
NoMüNoMü

Arts Collaborative
709 N Howard St
Baltimore, MD
21201, USA
August Gallery Hours
Sat: 12–5 PM
Sun–Fri: Closed
or by appointment

©2022 NOMÜNOMÜ, LLC.